Preventative services: What's included in your health plan?
Contact Stephanie Severs, 608-261-1455, ssevers@wisc.edu, or Nancy Crevier, 715-732-7510, ncrevier@marinettecounty.com
[Ashland, Wis.] — Making financial decisions about health insurance can be difficult for people who are unable to understand what's included in their coverage plans.
Struggling to understand the details of an insurance plan is a common problem for many Americans, particularly for people new to having coverage. While the health insurance expansions established through the Affordable Care Act aim to improve access to care, reduce costs and lead to healthier outcomes, achieving these goals depends on consumers knowing how to use their coverage.
The Affordable Care Act established that all health insurance plans now come with free preventive services that include an annual checkup and tests that depend on age and gender. For example, children can get hearing and vision tests at various ages, women can get an additional "Well Woman" checkup or mammograms after their 40th birthday, and all adults can get blood pressure screenings. Patients are not charged additional fees for these services.
All insurance plans also now include services such as drug and alcohol counseling, obesity testing and counseling, help to quit smoking, breastfeeding support and birth control (excepting plans sponsored by exempt employers affiliated with religious organizations).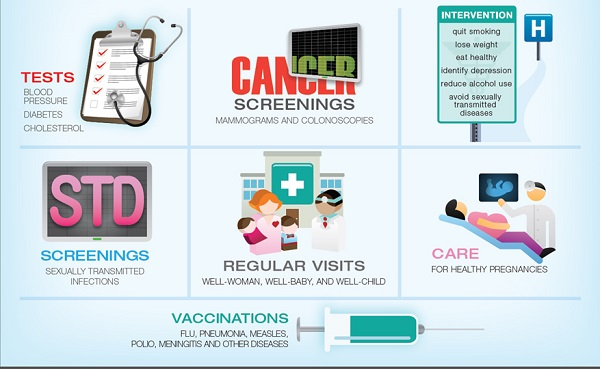 Patients should ask their insurance companies which tests are included in their plans and which are right for them. For additional information, healthcare.gov provides details about preventative health services.  The CDC also explains what is preventative care?
Covering Wisconsin is a federally designated Navigator entity for the Affordable Care Act and provides a series of consumer fact sheets, including ones addressing basic care, the BadgerCare program and the federal Health Insurance Marketplace.