UW-Extension Ashland & Bayfield Counties Research Bulletin No. 36, April 2016
High Tunnels Greenhouses in Ashland/ Bayfield Counties 2016 Survey Report
Lilly Soshnik-Tanquist, AmeriCorps VISTA – UW-Extension, Bayfield County
Jason Fischbach, UW-Extension Agricultural Agent, Ashland and Bayfield County
This survey report includes an introduction on high tunnels, methods of survey, results and discussion of the 2016 survey including High Tunnel Production Capacity, Production and Utilization, Markets, Educational Needs, and the conclusion.
Comments or questions about this survey can be directed to Jason Fischbach at 715-373-6104 ext 5 or by email jason.fischbach@wisc.edu.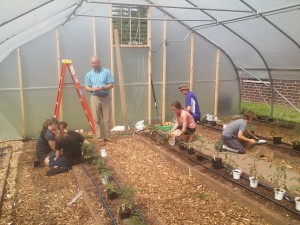 Shown here are photographs of the Ashland Middle School high tunnel in Ashland, WI.