Mid-Winter Getaway ~ Saturday, March 2, 2019



Check-in: 8:30am – 8:50am; Event Time: 9:00 am – 12 noon
Cost: $5 per person, includes a snack
Where: Northland College gym
Who: all youth in 3rd-7th grade
Registration is required by Feb 28 at 3pm: contact the Ashland County UW-Extension Office, phone # 715-682-7017. First-come/first serve basis SPACE IS LIMITED!
Youth will participate in 2 workshops, please choose 2 and pick 1 alternate.
Cardboard Sleds
Shimakido Karate
Food that Pops
Archery
Arts & Crafts
Climbing – requires additional waiver NC Climbing Wall Waiver
Dog Sledding
Science
Permission Slip: Code of Conduct/ Health Form needs to be filled out and brought to the event.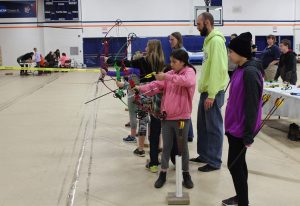 Hosted by Ashland County 4-H Teen Ambassadors.
Sponsored by: Extension Ashland County
Doug Liphart, 4-H & Youth Development Educator
201 West Main Street, Courthouse, Rm 107
Ashland, WI 54806
715-682-7017