Have you filled out your 2020 census form yet?
This short video from census.gov shows you had to do it online, on the phone, or using a paper form, and why it's so important to submit your answers.
The Importance of the 2020 Census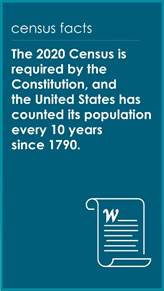 2020 will provide Wisconsin residents with the opportunity to be counted. The U. S. Census is mandated by the Constitution and takes place every 10 years. The goal is to take count of every person living in the United States, the District of Columbia, and the five U. S. territories.
By April 1, 2020, every Wisconsin home will receive an invitation to participate in one of three ways: by mail, telephone, or online. The census asks straightforward questions like: How many people are in your home? What are the ages and genders of the people in your home?  What is their ethnicity?
It's important to know that the census will never ask questions about banking or credit card information, or anything regarding donations or politics. No questions of this kind will be on the census survey! The U. S. government assures that all personal information is kept confidential and is not used by other groups or businesses.
Participation in the census benefits Wisconsin and Ashland County in many ways. For example, census results determine how many congressional seats the state has and how much money comes into the state from the federal government for things like education, health and human services, roads, and libraries. Services such as small business loans, substance abuse prevention and treatment, broadband expansion, access to clean drinking water, and affordable electricity can be affected by how much funding the state gets per person counted.
Here is a short video: What is the 2020 Census?
https://www.youtube.com/watch?v=Syg4zqb0iCU&list=PLPvb3r6DScK1xc5lkFESgSOGEVTFSbG6C
Links
National Information
To find general information on Census 2020: https://2020census.gov/
This website covers everything from what is the census, who should take it and how, why it's important to take the census and how your privacy will be protected.
If you would like to see a sample Census 2020 form: https://www.census.gov/programs-surveys/decennial-census/technical-documentation/questionnaires/2020.html
Wisconsin Information
Wisconsin expects to exceed 6 million in population in 2020, with 300,000 new residents since the 2010 census. An incomplete count of our residents puts us at risk of losing important federal tax dollars for the next ten years. It's estimated we are awarded about $1,300 per year for each person counted!
To find out more about how Census 2020 will affect Wisconsin: https://wicount.wi.gov/pages/home.aspx
The Cap Times tells you what you should know about the 2020 Census in Wisconsin: https://madison.com/ct/news/local/govt-and-politics/counting-wisconsin-what-you-should-know-about-the-census/article_861afb4d-9cf2-520d-af2b-6314d67b93b4.html
To see the data gathered locally in the 2010 Census and how it compares to national data, you can search by state, county, city, town, or zip code: https://www.census.gov/quickfacts/fact/table/US/PST045219
Much of northern Wisconsin may be hard to count because residents are difficult to locate, count, or interview.  According to a CUNY Mapping Service analysis, during the 2010 census the region included many communities where census workers did not send mailings to households and instead opted to visit each home to count residents.
For information on hard to count communities
https://www.census.gov/content/dam/Census/library/working-papers/2019/demo/Hard-to-Count-Populations-Brief.pdf
As with any large endeavor, volunteers are needed, and the Census 2020 is also hiring temporary workers. Earn extra income while helping our community at:  https://2020census.gov/en/jobs.html
Here's a short video on the importance of counting indigenous and tribal people:
https://www.youtube.com/watch?time_continue=22&v=aKBmHSNvnNg&feature=emb_logo
Who Counts? Everyone Counts.
Here are answers to those who are in special circumstances or displaced during the census.
https://2020census.gov/en/who-to-count.html
Here is a short video on how the Census Shapes Our Future
https://www.youtube.com/watch?time_continue=3&v=xaXG7V3cttY&feature=emb_logo
Other helpful links
Wisconsin Counties Association: https://www.wicounties.org/index.iml
Ashland County, Wisconsin: https://co.ashland.wi.us/
Wisconsin Towns Association: https://www.wisctowns.com/
City of Ashland, Wisconsin: https://www.coawi.org/