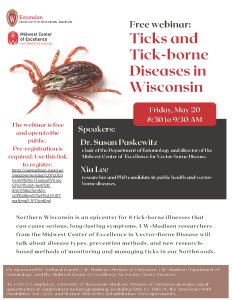 Friday, May 20th, 2022 from 8:30-9:30 AM.
Northern Wisconsin is an epicenter for 6 tick-borne illnesses that can cause serious and sometimes long-lasting symptoms. UW-Madison researchers from the Midwest Center of Excellence in Vector-Borne Disease (Madison) will talk about disease types, prevention methods, and new research-based methods of monitoring and managing tick populations in our Northwoods.
Many of our friends, neighbor, and farmers have gotten sick from Lyme, babesiosis, anaplasmosis, and other diseases while working or recreating outside. This program was designed for natural resource professionals, local health care workers, visitors, chambers of commerce, loggers, and others who want to understand and reduce their risk of exposure.
The webinar is free and open to the public, but pre-registration is required. Use this link to register.
Here's a link to our Facebook page with more information. Feel free to share it on your Facebook page!  https://www.facebook.com/events/350561200428342
Speakers Include
Dr. Susan Paskewitz is the chair of the Department of Entomology and director of the Midwestern Center of Excellence for Vector-Borne Disease in Madison. Dr. Paskewitz is an expert on the biology and control of mosquitoes and ticks that transmit human and animal diseases including malaria, West Nile Virus, and Lyme disease. She and her lab conduct research and outreach to the general public with a focus on the development of pest control methods that are as effective as possible while minimizing impact on the environment in general. She is the Chair of the Department of Entomology at UW-Madison and teaches courses in medical entomology, insect pest suppression, and global health.
Dr. Xia Lee is a vector biologist working in Susan Paskewitz's lab. His current research interests are in tick questing behavior and management of ticks in recreational parks and residential properties. He started working on vector-borne diseases as an undergraduate in Dr. Susan Paskewitz's lab looking at potential biological control agents for the WNV mosquito in catch basins. He has a Master's and PhD degree in Entomology from UW-Madison.
Here are resources from our speakers and other sources about tick-borne diseases in Wisconsin
A second webinar in June will focus on identifying symptoms, diagnosis methods, and treatment methods. A third webinar will include a discussion with a veterinarian who will talk about how tick-borne diseases are affecting pets and farm animals.
This program is co-sponsored by UW-Madison's Division of Extension-Ashland County, UW-Madison Department of Entomology, and the Midwest Center of Excellence for Vector-Borne Diseases.
Please contact the Ashland County Extension office for more information at 715-682-7017.