Community Development programs share a common goal reflected in our commitment to community development.  Our outreach programs, research and overall assistance involves people, communities, and organizations in educational experiences that teach them to apply appropriate knowledge and technology to the problems of the day. Such programs deal with communities as well as the people and resources within them.
Backed by University of Wisconsin research, Community Development educators work in partnership with people in county, state, federal, and tribal governments; community organizations; volunteers; business; and industry. With faculty in every county and on UW-campuses, Extension gives Wisconsin citizens access to University research and knowledge.
---
Lissa Radke is the Extension Ashland County Community Development Educator, an 80% position.
The focus of the Community Development programs has been primarily in the following areas:
The following sections contain valuable links to resources, scheduled programs and information.  To request specific assistance it is recommended that Ashland County residents go through our office, either call 715-682-7017 or email lissa.radke@wisc.edu
---
Civic Engagement Programs
The Community Development program offers several new programs to inform voters about their voting rights and options in the upcoming presidential election on November 3. All are free, virtual, and open to the public.
Ashland County Reads: VOTE!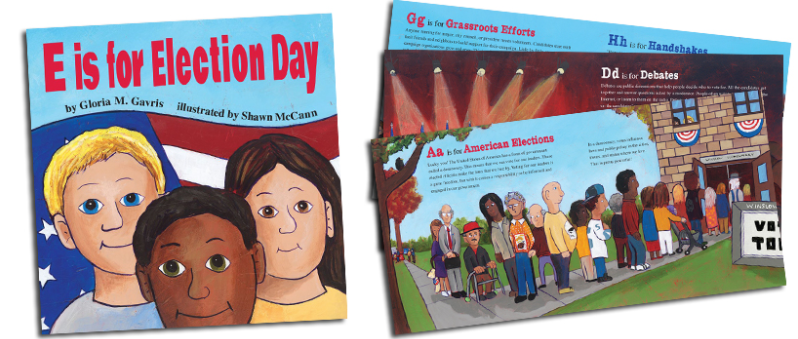 A dozen local elected officials in Ashland County recently participated in a unique community reading project called "Ashland County Reads: VOTE!"
Officials from the Ashland County Board, towns, Bad River Band, city of Ashland, and the Ashland School District's school board each read several pages from the award-winning children's book called E is for Election Day by Gloria Gavris. Readers also included the president of the local chapter of the League of Women Voters and the Vaughn Public Library director.
Each official read aloud two pages from the alphabet book that describes the election process from "A is for American Elections" to "Z is for Zig Zag." All the audio recording were compiled in a 16-minute video. The recording also includes video of each illustrated page. Here's a list of all the readers and other contributors.
Here are sample pages from the book.
The purpose of the project is to encourage young and old readers, and voters, to learn about civic engagement opportunities before and during elections. A second purpose of Ashland County Reads! is to celebrate books with friends and family by reading them together, especially during election time, as a way to stimulate multi-generational conversations.
The UW Extension Educational Technology Support Department compiled all video and audio recordings of the reading and edited them into a 16-minute movie available online on You Tube. Google "Ashland County Extension Community Development" on You Tube to find the link to watch. We encourage you to watch this original movie of your elected officials celebrating your right to vote!
The program is co-sponsored by the League of Women Voters of Ashland and Bayfield Counties, Ashland County's three public libraries, and UW Madison's Division of Extension-Ashland County's Community Development Program.
The Ashland County Extension office has donated the book to the Vaughn Public Library, Ashland, so it can be enjoyed for many elections to come. Look for and check it out online in the library's catalog.
About the Author and Illustrator of E is for Election Day
Gloria M. Gavris, Author
Gloria Gavris lives outside of Boston, Massachusetts and is a lawyer, former lobbyist and community volunteer who loves electoral politics and campaigns! As a young girl, Gloria's whole family often campaigned together in her childhood home of Everett, Massachusetts. She has felt the thrill of election night wins and the disappointment of defeat. These family experiences inspired her love for local politics and election season. Gloria hopes E is for Election Day will engage the next generation of voters with a love and excitement for election season, voting and democracy, one book, one child at a time.
Shawn McCann, Illustrator
Shawn McCann is an award-winning illustrator, street painter and muralist. He is a graduate of the Minneapolis College of Art and Design and lives in the Twin Cities area. His illustrations have been featured in more than twenty books. Random splatters of paint have been known to show up wherever Shawn creates his art.
The program is co-sponsored by the League of Women Voters of Ashland and Bayfield Counties, Ashland County's three public libraries, and UW Madison's Division of Extension-Ashland County's Community Development Program. Here are links to the co-sponsors:
Vaughn Public Library, Ashland
Legion Memorial Library, Mellen
Madeline Island Public Library, LaPointe
League of Women Voters of Ashland and Bayfield Counties
---
Organization Development and Planning
We can provide assessments for organizations, their board of directors and training that addresses specific needs such as developing a fundraising plan. One of our most popular offerings is Strategic Planning, a process designed to improve the effectiveness of your organization.
Here's an overview of a strategic planning process:  Steps in a Strategic Planning Effort

Here's an example of one tool for use with a non-profit board: Ten-Basic-Responsibilities-of-Nonprofit-Boards

Here's a thought provoking article: Changing-our-Thinking-about-Action

---
Sustainable Economic Development and Resilience
We partner with the Wisconsin Innovation Network – Lake Superior chapter, the Alliance for Sustainability and other area organizations to provide programs, workshops, conferences and research.  Here are a few of the resources available.
Sustainability Toolkit for Local Government
Wisconsin Innovation Network – Lake Superior Chapter
Ashland Area Development Corporation
This video tells one of the stories of sustainability in our region.  "Firesouls on the Chequamegon Bay: Passion and Partnerships for Sustainability"

The UWEX Center for Community and Economic Development provides information and programs on a wide range of topics.
---
Local Food Systems
All of the educators in our office are engaged in some aspect of our local food system, from supporting growers to expanding local food in our schools.
Wisconsin is supporting local foods in a variety of ways.  Here is a link to the local food section of the WI Department of Agriculture, Trade and Consumer Protection
Here is an excellent resource for food business entrepreneurs and for educators who work with food businesses called Edible Alpha. Edible Alpha was founded by Tera Johnson, Director of UW-Extension's Food Financing Institute.
See also the pages of our UW-Extension Agriculture agent.
---
Energy Efficiency and
Renewable Energy
This region of Wisconsin has been a leader in energy efficiency. Nine area communities were engaged in the first Wisconsin Energy Independent Communities program.
UWEX educators from throughout the state developed this resource to aid local governments in their efforts to save energy:  Municipal Energy Planning: An Energy Efficiency Workbook
The State Focus on Energy Program has a host of information to help you conserve energy and explore renewable energy sources.
The Midwest Renewable Energy Association is a great resource.
In 2015, Energy Center of Wisconsin changed their name to Seventhwave to better illustrate the dynamic nature of their work nationwide. They conducts research and training related to energy efficiency and renewable energy.

This federal government site, Database of State Incentives for Renewables & Efficiency, provides updated lists of funding available to support energy efficiency and renewable energy.
---

Broadband/High Speed Internet and Economic Development
Leaders in our area have recognized the importance of high speed internet infrastructure for over a decade.  In 2015 a collaborative work group will be sponsoring several programs on broadband.
What is Broadband?
Broadband essentially means high speed Internet. 

Collaborative Programming to Increase Broadband Services: Tom Wojciechowski, CNRED & Kathy Beeksma, Family Living

For more information check out the PDF below of the PowerPoint from the New Directions in Community Engagement and Scholarship (CNRED & FL) conference presentation Tom and Kathy gave October 28-29, 2014 at Chula Vista Resort, Wisconsin Dells, WI.

Collaborative Programming to Increase Demand for and Availability of Broadband Services in Ashland and Bayfield Counties (PDF, 37 pages, 3.76MB)

For more information see the following links:
---
Strengthening Local Government
Assistance is available for local governments in strategic planning, comprehensive plan updates, and through our state specialists, economic impact studies.  Through regular programs of the UWEX Local Government Center, elected officials can learn about nearly every aspect of effectively carrying out the responsibilities of their elected positions.  Programs are also applicable to many government employees.  See the Local Government Center Distance Education website for current programs including brochures for  Land Use Planning and Zoning WisLine Teleconference Series.
All Comprehensive plans for Ashland County Municipalities are available on the web, click on the town you would like to see from the list on the left.

The following government professional associations provide many services and educational materials for their members: 
An annual regional lobbying effort known as Superior Days engages the citizens of Ashland, Bayfield, Iron and Douglas counties.  See the web site for dates, details and current issues.
---
Support and Resources for
Entrepreneurs and Small Business
We provide initial business start-up counseling and resources.  We then refer aspiring entrepreneurs to the most appropriate support organization(s).  We have set up a separate page of resources for entrepreneurs and businesses, see Starting or Expanding a Small Business.
---
In cooperation with Bayfield County we offer a Leadership Training program every other year.  The four month program will be offered next in 2019/2020.  To learn more about this program visit the Ashland & Bayfield Counties Leadership Program Facebook page.
Leadership Program Information
We will also provide more focused leadership training to your group if you have identified a training need.  Call our office.
There is also an UWEX sponsored state-wide leadership program in which several local citizens have participated.  If you would like more information about Leadership Wisconsin check their website.
---
Grant Research and Proposal Writing
Several staff in our office have experience in grant research and grant writing and are available to get you started.  Two  recommended resources are the UW-Madison Libraries Grand Proposal Writing page and Grants.gov to find and apply for federal grants.
---
Hazardous Waste Management
With Ashland County government and in partnership with the Northwest Regional Planning Commission we coordinate annual hazardous waste collections called 'Clean Sweep.'  Collections are held in the summer, for more information see the 2019 Hazardous Waste Collection Event post.
We have also compiled and update annually a booklet on where you can properly dispose of various hazardous materials during the year.  Here is the latest edition: Household Hazardous Waste Disposal Guide 2019
Additional information and resources can be found on the Community Development Hazardous Waste Management page.
---
Local Research, Data
Compilation and Analysis
We assist local organizations to answer questions through: community based research, accessing data from state and federal sources and by partnering with UWEX state specialists. They can assist us in such areas as economic impact assessments and current best management practices.  This type of assessment usually starts with a conversation with you to determine what questions you're trying to answer.  Sometimes it results in our providing the correct web link to access the data you need, other times we need to design a study or a process to arrive at the answer.  Give us a call. 
Examples:
Community Economic Impacts of Interpretive Centers: A Case Study of the Northern Great Lakes Visitor Center.  2013 NGLVC Report
2004 Ashland County Level Citizen Survey Findings Report (16 pages, 1.84 MB) For the Ashland County Comprehensive Planning Oversight Committee.   As part of the Ashland County and participating communities' Comprehensive Planning program(s) this random sample survey was designed and implemented. With a desired rate of statistical validity of plus or minus 3, a sample size of 1,800 residents and property owners was selected from the County tax role.

The Economic Impacts of Active Silent Sports Enthusiasts: A Case Study from Northern Wisconsin
Ashland County demographic data from the 2010 census