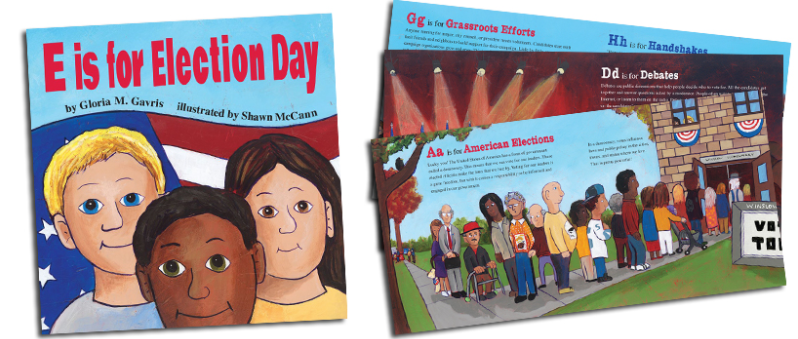 A dozen local elected officials in Ashland County recently participated in a unique community reading project called "Ashland County Reads: VOTE!"
Officials from the Ashland County Board, towns, Bad River Band, city of Ashland, and the Ashland School District's school board each read several pages from the award-winning children's book called E is for Election Day by Gloria Gavris. Readers also included the president of the local chapter of the League of Women Voters and the Vaughn Public Library director.
Each official read aloud two pages from the alphabet book that describes the election process from "A is for American Elections" to "Z is for Zig Zag." All the audio recording were compiled in a 16-minute video. The recording also includes video of each illustrated page. Here's a list of all the readers and other contributors.
Here are sample pages from the book.
The purpose of the project is to encourage young and old readers, and voters, to learn about civic engagement opportunities before and during elections. A second purpose of Ashland County Reads! is to celebrate books with friends and family by reading them together, especially during election time, as a way to stimulate multi-generational conversations.
The UW Extension Educational Technology Support Department compiled all video and audio recordings of the reading and edited them into a 16-minute movie available online on You Tube. Google "Ashland County Extension Community Development" on You Tube to find the link to watch. We encourage you to watch this original movie of your elected officials celebrating your right to vote!
The program is co-sponsored by the League of Women Voters of Ashland and Bayfield Counties, Ashland County's three public libraries, and UW Madison's Division of Extension-Ashland County's Community Development Program.
The Ashland County Extension office has donated the book to the Vaughn Public Library, Ashland, so it can be enjoyed for many elections to come. Look for and check it out online in the library's catalog.
About the Author and Illustrator of E is for Election Day
Gloria M. Gavris, Author
Gloria Gavris lives outside of Boston, Massachusetts and is a lawyer, former lobbyist and community volunteer who loves electoral politics and campaigns! As a young girl, Gloria's whole family often campaigned together in her childhood home of Everett, Massachusetts. She has felt the thrill of election night wins and the disappointment of defeat. These family experiences inspired her love for local politics and election season. Gloria hopes E is for Election Day will engage the next generation of voters with a love and excitement for election season, voting and democracy, one book, one child at a time.
Shawn McCann, Illustrator
Shawn McCann is an award-winning illustrator, street painter and muralist. He is a graduate of the Minneapolis College of Art and Design and lives in the Twin Cities area. His illustrations have been featured in more than twenty books. Random splatters of paint have been known to show up wherever Shawn creates his art.
The program is co-sponsored by the League of Women Voters of Ashland and Bayfield Counties, Ashland County's three public libraries, and UW Madison's Division of Extension-Ashland County's Community Development Program. Here are links to the co-sponsors:
Vaughn Public Library, Ashland
Legion Memorial Library, Mellen
Madeline Island Public Library, LaPointe