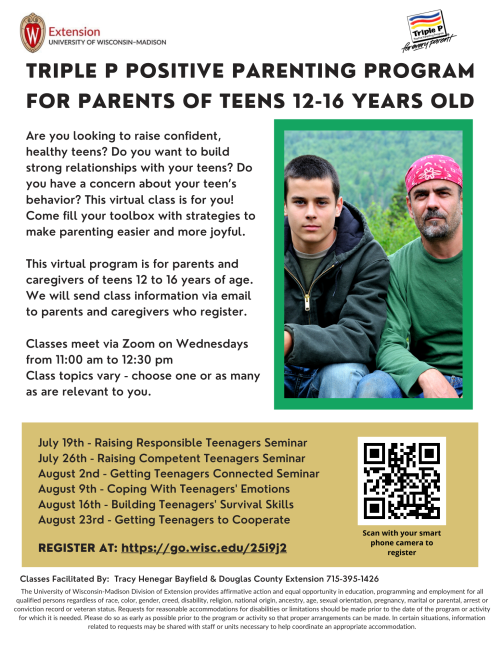 Registration is now available for the Triple P: Positive Parenting Program. These free seminars aim to provide parents with a toolbox of strategies to raise confident and healthy children and teens, build strong family relationships, manage misbehavior, and prevent problems from happening in the first place. Participate virtually from the comfort of your own home and walk away with more knowledge and confidence as a parent!
Classes will be held on Wednesdays from 11:00 am-12:30 pm. You can sign up for as many as you would like. Register here for Triple P – Teens
Are you looking to raise confident, healthy teens? Do you want to build strong relationships with your teens? Do you have a concern about your teen's behavior? This virtual class is for you! Come fill your toolbox with strategies to make parenting easier and more joyful.
This virtual program is for parents and caregivers of teens 12 to 16 years of age. We will send class information via email to parents and caregivers who register.
July 19th – Raising Responsible Teenagers Seminar
July 26th – Raising Competent Teenagers Seminar
August 2nd – Getting Teenagers Connected Seminar
August 9th – Coping With Teenagers' Emotions
August 16th – Building Teenagers' Survival Skills
August 23rd – Getting Teenagers to Cooperate
Registered participants will be sent additional class information and the Zoom link via email, so be sure to provide the best email for us to contact you at.
Heidi Ungrodt serves Ashland County as the Human Development & Relationships Educator

Heidi Ungrodt serves Ashland County as the Human Development and Relationships Educator. To learn more about Human Development and Relationships Programming and the role Extension plays in Ashland County, send Heidi an email at heidi.ungrodt@wisc.edu or call 715-682-7017!