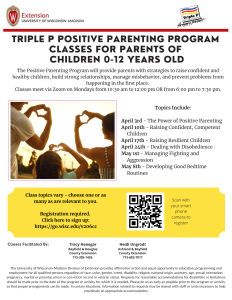 Attend one, two or all three of the seminars at no cost to you. Register here. For more parenting class information, visit our Relationships & Parenting section.
Registration is now available for the Triple P: Positive Parenting Program. These free seminars aim to provide parents with a toolbox of strategies to raise confident and healthy children and teens, build strong family relationships, manage misbehavior, and prevent problems from happening in the first place. Participate virtually from the comfort of your own home and walk away with more knowledge and confidence as a parent! Classes meet via Zoom on Mondays from 10:30 am to 12:00 pm OR from 6:00 pm to 7:30 pm. Registration is free and found here!
Topics include:
The Power of Positive Parenting
Raising Confident, Competent
Children
Raising Resilient Children
Dealing with Disobedience
Managing Fighting and
Aggression
Developing Good Bedtime
Routines
Heidi Ungrodt serves Ashland County as the Human Development & Relationships Educator

Heidi Ungrodt serves Ashland County as the Human Development and Relationships Educator. To learn more about Human Development and Relationships Programming and the role Extension plays in Ashland County, send Heidi an email at heidi.ungrodt@wisc.edu or call 715-682-7017!