The Extension StrongBodies Program is based on the StrongWomen Program that was created by Professors Miriam E. Nelson and Rebecca Seguin. StrongBodies will catalyze positive change in people of all ages to live stronger, healthier lives by providing knowledge, inspiration, access to programs, and ongoing support. Ashland County partners with Douglas, Bayfield, and Iron Counties to bring people of all ages together virtually to learn about fitness and nutrition!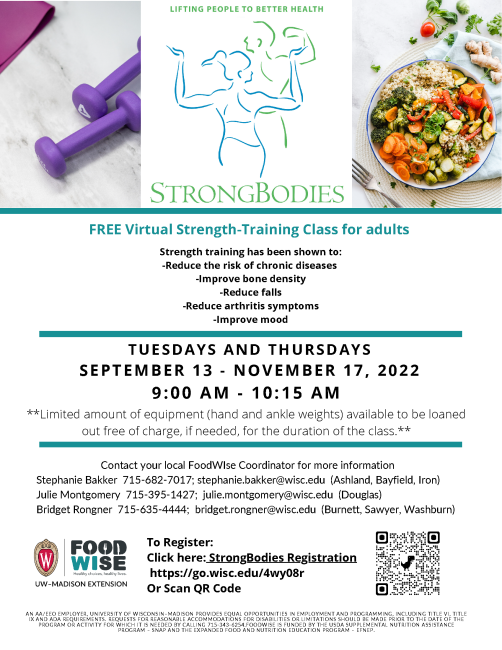 The current StrongBodies series is taking place September 13th – November 17th!

Tuesdays and Thursdays from 9:00-10:15AM
Participate from your living room

This virtual strength training class is free, but registration is required. https://uwmadison.co1.qualtrics.com/jfe/form/SV_0PwvNKQaiukiTIO
If you don't have your own equipment, no worries! Call our office at 715-682-7017 to talk about borrowing equipment for the class.
Contact FoodWIse coordinator, Stephanie Bakker, with questions! 715-682-7017 or stephanie.bakker@wisc.edu
View a PDF of the StrongBodies poster here
*For more information on StrongBodies, visit their page : https://healthyliving.extension.wisc.edu/programs/strongbodies/