Wisconsin Master Gardener General Training Course
The Extension Master Gardener Program educates, empowers, and supports volunteers to use university research-based information to extend the Wisconsin Idea, making a positive difference in lives and communities.
---
Interested in becoming a Master Gardener? Please check out the  University of Wisconsin-Extension  online Master Gardener Program
For upcoming events and relevant information see below and check out
the Ashland/Bayfield Counties Master Gardener Association's  Facebook Page  
---
Build with, not for: be inclusive with the people we want to see in the program.  Be culturally relevant. Have the community take part in the creation process.
Think globally, act locally: connect identified, local needs to statewide and national goals to better communicate value and impact of efforts; create resources at the global level and apply to local needs.
Meet people where they are at: create materials along a learning continuum to better serve people with a variety of life experiences; move away from the expert model of content delivery and create educational product for people to learn in different ways.
Be scholarly: use unbiased, university research based information for training and to guide our projects. Incorporate new, interdisciplinary research on the benefits of plants into our projects to address the needs of individuals and our communities
Have fun: incorporate best volunteer development practices to enhance program experiences. Remove unnecessary bureaucracy and rules.
Current Opportunities!
Visit the MG Statewide Extension Event Calendar for a listing of gardening and horticulture learning opportunities. Such as: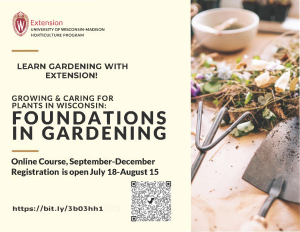 Growing and Caring for Plants in Wisconsin: Foundations in Gardening is an online introductory course where you learn key concepts for selecting, growing, and maintaining plants – from trees to houseplants to vegetables (and everything in between!) You'll learn about gardening, also known as horticulture, in a way that helps you make decisions to plan for gardening success, prevent plant problems before they start, and manage issues when they happen. Registration info can be found by following this link.
Course dates: September 11, 2022-December 10, 2022
Course fee: $299, includes year-long course access and PDF version of course manual.
A limited number of $100 scholarships are available for 2022. If you are applying for a scholarship, hold off on registering. You must apply for the scholarship first. Wait to hear from us before registering. We will contact scholarships awardees with next steps for registration.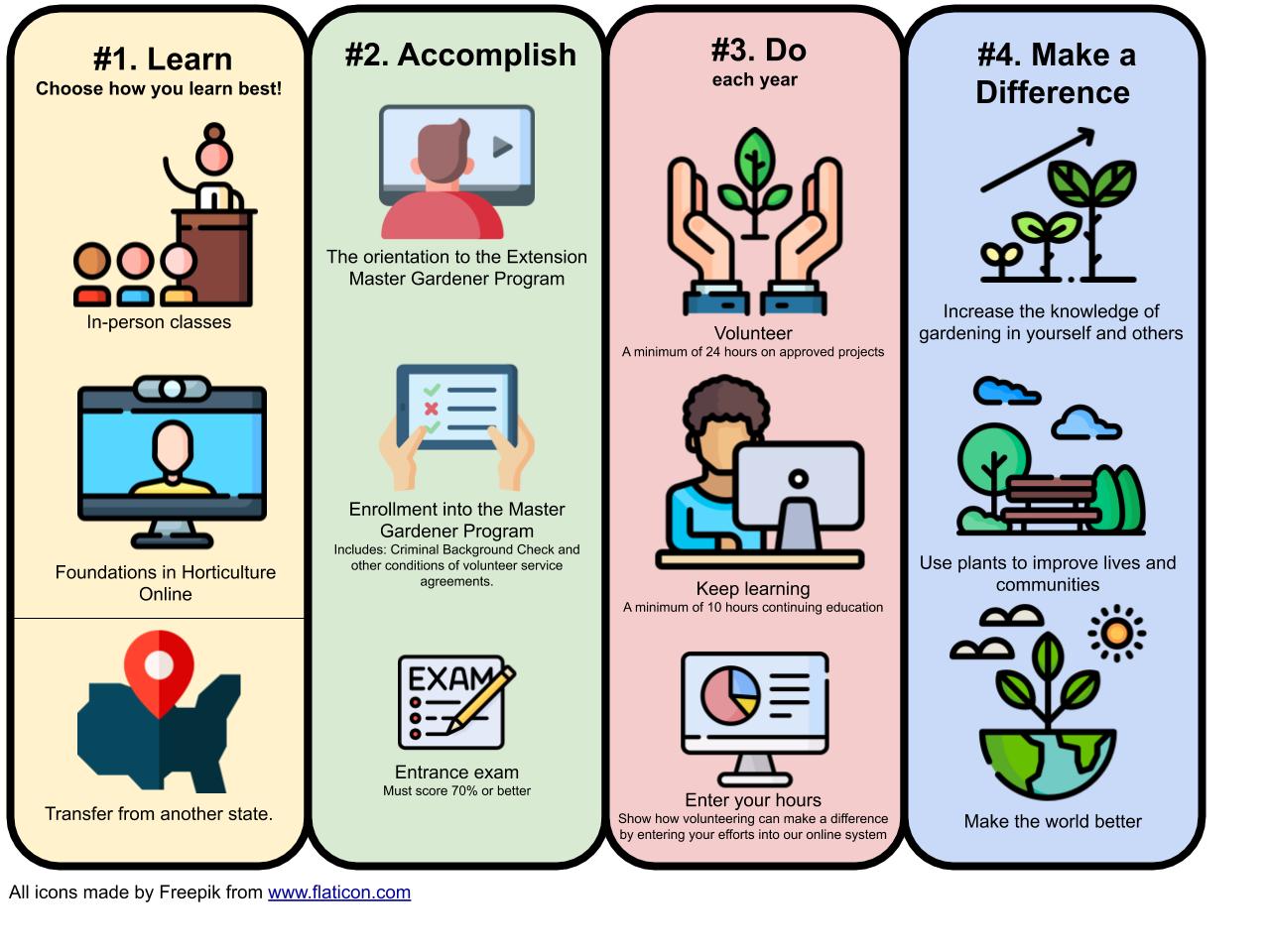 Being a Master Gardener is about becoming a VOLUNTEER with the University of Wisconsin-Madison Division of Extension to help educate the public about gardening and natural resources. It's not about knowing everything about gardening. It's about learning to ask the right questions and knowing how to look up information from appropriate resources.  Being a Master Gardener is about helping deliver meaningful community programs to improve the well-being of individuals and communities, to protect natural resources, and to help keep fresh fruits and vegetables on the table. It's about working in tandem with Extension staff and other volunteers to make a difference in the places we live, learn, and work.
By becoming a Master Gardener Volunteer you become a representative of the University of Wisconsin-Madison and assist Division of Extension staff with scholarly community programs relating to horticulture and the environment.  You DON'T need to know everything about gardening — you'll learn more and more as you participate in the program. You DO need to have an interest in learning and giving back to your community by working with your Extension office to deliver timely research based information. Scientific and digital literacy is also recommended.
With an office in each Wisconsin county, Extension develops practical educational programs tailored to local needs and based on university knowledge and research. We deliver our expertise to the public, addressing a wide range of needs to people, plants and animals, in both urban and rural areas of the states.
Extension Ashland County has not scheduled the WI Master Gardener General Training Course for 2022
Achieving Master Gardener Certification requires attending all the training sessions, passing the final exam and completing 24 hours of volunteer service within one year of completing the training course. Class dates to be be announced at a later time.