The Aging Mastery Program is offering a free in person and virtual class for Ashland County Residents.
Dates:  July 13th-September 28, 2022 Wednesdays
Time:  9 am-11:30 am
Location: The Northern Great Lakes Visitors Center's multi-purpose room OR online via Zoom
The Aging Mastery Program (AMP) provides tools and resources designed to improve health, enhance financial stability, and foster a life full of meaningful connections. AMP is all about feeling better today and staying healthy for the future. Build your own personal playbook for aging well. This fun, innovative program empowers you to take key steps to improve your well-being, add stability to your life, and strengthen ties to your community. Feel better today and stay healthy for your future. We are committed to supporting lives well lived in communities across Wisconsin!
To register CLICK HERE.
For more information about the program, visit their website at https://www.inclusa.org/providers/aging-mastery-program/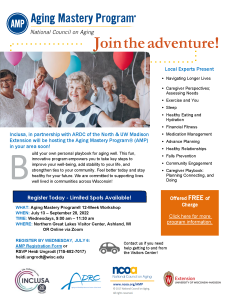 The workshop classes include:
Navigating Longer Lives: The Basics of Aging Mastery
Caregiver Perspectives*
Exercise and You
Sleep
Healthy Eating and Hydration
Financial Fitness.
Medication Management
Advance Planning
Healthy Relationships
Falls Prevention
Community Engagement
Caregiver Playbook: Planning, Connecting, and Doing*