Each July, Ashland & Bayfield County's Youth Development offices work together to plan a fun, 3 day youth summer camp experience for 4-H Members and area youth!
Who, When, and Where:
Dates: Friday July 7- Sunday July 9, 2023 
Location: Camp Crosswoods, Bayfield County, WI
Ages: Grades 3-8 (current grade)
Cost: $105 ($80 for enrolled 4-H members)*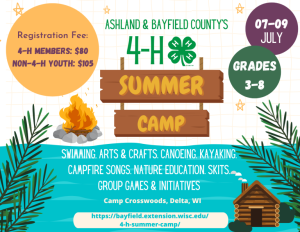 Camp Information:
Organized by UW-Extension Ashland and Bayfield Counties 4-H Programs
Supported by UW-Extension Ashland and Bayfield Counties 4-H Leaders Associations
Aided by 4-H Adult Volunteers, Crosswoods staff, etc.
Youth Counselors are 4-H Members in 9th-12th grade
Youth Leaders lead programs, with a "Counselor in Training" program for 8th graders
Cabins have comfortable bunks and limited shower facilities are available
Some activities include: canoeing, swimming, trails, campfires, etc. 
There are multi-purpose buildings for dining and recreation
Registration will open early May and will run to June 15th or until cabins are full
Camp begins at 1pm on Friday, July 7th and ends at 11am on Sunday, July 9th
Campers will be split into cabins of 6-8 youth of similar age and gender with 1-2 counselors per cabin
Member Registration Process:
Safety Information
Camp programs include swimming, arts and crafts, canoeing and kayaking, campfires and singing, nature education, skits, and games for large or small groups.

Campers are supervised by 4-H Youth Development staff from Ashland and Bayfield Counties, 4-H certified Adult Volunteers, and trained teenaged counselors. 

Please complete the Health, Policy, & Liability Forms and submit them to Ashland County Extension (call 715-682-7017 with questions).