Volunteers help make 4-H possible.
To volunteer, you don't need to have previous experience working with youth. The most important qualifications are:
a desire to work with young people to help them learn new things and gain life skills; and
wanting to provide youth with positive experiences in a safe and welcoming environment.
Volunteers work with Extension staff to deliver educational programs using University and other high-quality educational resources.
In 4-H there are many ways to volunteer. All volunteers work with youth and adult volunteers in offering a positive youth development experience for young people. Check out specific volunteer opportunities below.
Activity/Event Volunteer
Provide leadership/organization for an activity or event and/or participate as a committee member
Adult Advisor/Chaperone
Work with a team of adult advisors and PYD staff to ensure youth have a safe and positive educational experience.
Club Enrollment Coordinator
Provide leadership for members and adult volunteers who are enrolling in the club or group organization
Club Leader
Provide leadership to the club or group organization
Committee Volunteer
Provide leadership for a committee and/or participate as a member of a committee, creating educational experiences for all youth engaged in the program
Project Leader
Provide leadership and organization to the project group who is learning about a specific topic.
The Outdoor Adventure Leadership and much of the environmental education focus in the 4-H program is a good match for many community members.
The Science, Engineering and Technology Programs fit many interests and skill sets.
Traditional broad based clubs look for volunteers to help with a broad range of activities with youth including horseback riding, cooking, animal raising and training, gardening, and the arts. Share your skill with community youth for a day or a year.
4-H After School Programs and Special Events or Activity Days also need volunteer support.
Pie and Cookie Bar bakers to support the Ashwabay Summit Race, a big fundraiser for 4-H CANSKI!

Volunteering with 4-H has benefits for the volunteers, the youth they work with, and the organization they support.
Youth benefit because volunteers help youth:
Prepare for future careers
Improve their decision-making skills
Serve their communities
Gain leadership skills
The organization benefits:
4-H volunteers on average donate 9 hours per month
Donate money and supplies
Serve as ambassadors of 4-H in recruiting youth, volunteers and connecting with community partners
Volunteers impact communities where they volunteer by:
Making communities stronger
Connecting communities
Improving the health of communities
Increasing civic involvement
If you are 18 years or older and interested in becoming a 4-H volunteer, we can help. We will provide new volunteers with Volunteers in Preparation Training about how to work effectively with youth and what resources are available to volunteers. We will also ask you to participate in a Mandated Reporter Training to learn more about how to protect youth from child abuse and neglect. Finally, to ensure the safety of all youth and volunteers, a Volunteer Behavior Expectations Agreement and background check are required.
Depending on their role, some volunteers may be asked to complete subject matter specific trainings as well as training to enrich their knowledge of youth development (for example chaperones or Shooting Sports leaders).
For more information and to apply as a volunteer, please contact our office.
Have a question?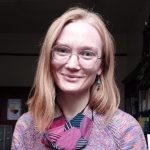 To learn more about 4-H Youth Development programming and the role Extension plays in Ashland County, send me an email!