The Achievement Extravaganza was awesome thanks to all of the participants who could make time to attend! For those of you who were unable to join us, we apologize for the technical difficulties that made the hybrid option not possible- but you were there in spirit. Hopefully we will see everyone on November 11th for our next Achievement Event! Please see the slides from the Extravaganza below, including the save the dates & other relevant 4-H activities. 4-H Achievement Extravaganza! June 1, 2023
---
Original Invitation: It's been awhile since we've seen each other! Join us in celebrating the hard work of the Ashland County 4-H Youth and Volunteers Thursday June 1, 2023 from 5:00-7:00PM at the Vaughn Public Library (with a virtual option)! The 2023 4-H Achievement Extravaganza will be a time for all 4-H Clubs to gather in person to meet each other, take photos, talk about their time in 4-H, and celebrate in a formal way! We will be honoring 4-H senior class of 2023, youth who participated in the Member Evaluation Process, Record book & Special awards, as well as the end of our Spring Art Contest. Keep an eye out for a postcard invitation!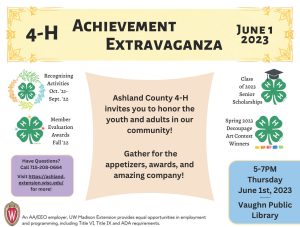 Details
Date: Thursday June 1, 2023
Time: 5:00PM-7:00PM
Location: Vaughn Public Library (or zoom!)
Questions? Contact the 4-H Youth Development Educator at 715-208-0664 or by email at kate.wallner@wisc.edu
---
What to Expect
We will be meeting at the Vaughn Library on the second floor, please arrive any time between 5-5:20! Refreshments will be available, with potluck-style treats donated by 4-H Families. Awards will be presented by the 4-H Youth Development Educator alongside 4-H Members! Times are approximate and include transitions.
Schedule
5:00-5:20 Arrive & Mingle

5:20-5:30 Words of Welcome

5:30-6:30 Present Awards: Senior Scholarships, Member Evaluation, Record Book & Special Awards, and Art Contest Awards!

6:30-6:40 Appreciation & Closing Remarks

6:40-7:00 Farewells & Photos
We care about our 4-H Family. Please stay home if you or any family members are experiencing any symptoms of illness. Your family will still be able to participate in the virtual event! Masks will be provided and encouraged, but are not required.