With Ashland County government and in partnership with the Northwest Regional Planning Commission the Extension Ashland County office coordinates an annual hazardous waste collection called 'Clean Sweep.'  Collections are held in the summer, for more information see the 2020 Hazardous Waste Collection Event post.
The Ashland County Collection was Wednesday, August 12, 2020 from 2-7pm at WITC – Ashland Campus south parking lot.
We have also compiled and update annually a booklet on where you can properly dispose of various hazardous materials during the year.  Here is the latest edition: Household Hazardous Waste Disposal Guide 2020
---
Counties in Northern Wisconsin have contracted with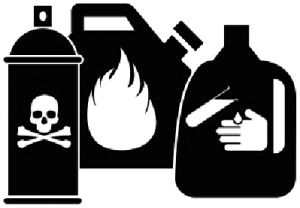 the Northwest Regional Planning Commission to offer annual Cleansweep Collections at no or low cost to households, farms, and businesses in a nine-county region since 1995. The program received a Wisconsin Governors Award for Excellence in Solid Waste Reduction by offering almost 400 collection events and keeping 1.6 million pounds of toxic materials from harming our waters, land, and wildlife.
---
The 2020 Ashland County Cleansweeps event was one of its biggest in years! Over 200 participants from five counties safely disposed of hazardous materials from households, farms, and businesses. Click here to read our summary and see photos of our volunteers!
Northwest Regional Planning Commission offers a Cleansweeps collection site in nine northern Wisconsin counties this summer and fall. If you would like to see when they're in your county, please visit: 2020 Clean Sweep Schedule (any resident of any county can attend any event).
If you would like to learn more about last year's Cleansweep Collection, click on the collapsible content link below.
In 2019, about 180 participants brought over 11,000 pounds of hazardous materials to safe collection events in Ashland County!
Paint Related Material   5,588 lb
Flammable Liquids    341 lb
Mercury   4 lb
Corrosives    595 lb
Aerosols    644 lb
1 lb Cylinders    34 lb
Pesticides / Toxics Liquids    912 lb
Oxidizers   13 lb
Ethylene Glycol    1,821 lb
Non Reg Resins    1,050 lb
Batteries  74 lbs.
<4' Fluorescent bulbs   340 bulbs
>4' fluorescent bulbs    194 bulbs
HID bulbs   5
Oil filters   21
Non-controlled meds  52 lbs.
An annual Cleansweeps hazardous material collection event allows residents, like this Ashland County participant in 2018, to safely dispose of toxic products such as lawn and garden chemicals, household cleaners, and medications. Farmers and small quantity business generators can also participate in the event.
---
Additional Resources:
Latex paints and water-based stains are not accepted at Cleansweeps since they're not considered hazardous. Here's a short video showing how to safely dispose of latex paint and cans.
A wide variety of statewide recycling and waste management information is available from the UW Solid and Hazardous Waste Education Center.
For medium to large quantities of materials to recycle on your time schedule check Waste Management's LampTracker which offers environmentally friendly, safe, and simple recycling solutions for fluorescent lamps, dry cell batteries, lighting ballasts, mercury devices, computers, electronics, sharps, bottles, cans, and paper, the cost includes pre-paid mailing.