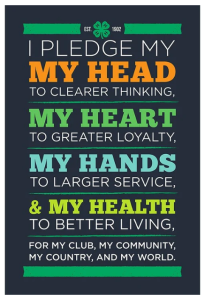 The purpose of a 4-H Club is to provide positive youth development opportunities to meet the needs of young people to experience belonging, mastery, independence, and generosity—the Essential Elements—and to foster educational opportunities tied to the University of Wisconsin Madison knowledge base.
Through 4-H Clubs youth members build leadership skills, develop life skills, are given opportunities for civic engagement, meet new friends; and most importantly, have fun. Additionally, many 4-H members engage in hands-on learning around project(s) of interest. Check out the complete list of projects here. 4-H Clubs are the foundation of the Wisconsin 4-H program. A 4-H Club is made up of five or more youth guided by adult volunteer leaders, partner organization staff, or University of Wisconsin Extension Educators. 4‑H clubs follow a proven program model and offer learning opportunities that are youth-directed.
To join a club, register on 4-H Online.
If you need help, follow the 4-H Online Family Enrollment Guide!
See the list of currently operating 4-H Clubs below, or download a copy!
Sewing Club
Leader: Jeanne Pearce
Contact #: 715-292-0772
Club Location: Vaughn Library
As a new club, the focus is on beginner-level sewing skills. This includes hand-sewing, embroidery, basic sewing machine use, and design. Members create things like pillow-cases, quilts, and more based on youth interests! Anyone ages 9 and up may join. Required materials are a sewing box (provided), a sewing book (provided), a sewing machine (contact the leader if you have questions on how to accommodate this).
---
Brunswillow Busy Beavers
Leader: Jennifer Nortunen
Contact #: 715-278-3831
Club Location: Marengo, WI
The Brunswillow Busy Beavers is a traditional 4-H club whose focus is on serving those in our community. Through community service projects, members gain real-world experience and practice important habits like leadership, problem-solving, and time-management. Club events are family focused and are a blend of educational and social interactions.
---
CANSKI
Leader: Kate Wallner
Contact #: 715-208-0664
Club Location: Ashland & Bayfield Counties
The mission of 4H-CANSKI is to promote fun, fitness, safety and excellence in the lifelong sport of cross country skiing. 4H-CANSKI provides ongoing instruction, social opportunities and leadership development for skiers of all levels. We will emphasize technique, conditioning, safety and provide leadership opportunities all in a fun filled atmosphere in the great outdoors.
---
Outdoor Adventure Leadership
Leader: Katherine Jenkins
Contact #: 715-746-2224
Club Location: Ashland County
OAL is a partnership program with Northland College designed for youth in sixth through ninth grades. Participants commit to weekly outdoor leadership focused classes offered during fall and winter. At the end of each session, participants develop a plan for a final adventure weekend with the support of staff, using skills learned throughout the program.
---
Pearce Peppers
Leader: Gina Pearce
Contact #: 715-682-3742
Club Location: Town of Gingles Area
Pearce Peppers is a small club that offers a wide variety of projects but primarily centers on Cloverbuds and 1st time 4-H members.
---
Rezberries
Leader: Liz Arbuckle
Contact #: 715-630-8672
Club Location: Odanah, WI
The Rezberries bring Native American values and traditions to 4-H activities, with emphasis on community service in the Bad River community. Members enjoy beautification projects, making and distributing food and crafts for Elders, and gathering socially to do constructive and useful projects in the community. They also enjoy interacting with the larger 4-H family in Ashland County, making bigger connections in the area and interacting with other clubs. Anytime they do something together with a purpose, they have fun.
---
Market Sale
Leader: Gina Pearce
Contact #: 715-682-3742
Club Location: White River Town Hall
The Market sale club offers a variety projects with emphasis on Animals to be sold at auction during the Ashland County Fair. In the past members have participated in the 4th of July Parade and we also raised money and donations for cattle barn improvements at the fairgrounds.
---
Kate Wallner serves Ashland County as the 4-H Youth Development Educator

Kate Wallner serves Ashland County as the 4-H Youth Development Educator. To learn more about 4-H Youth Development programming and the role of Extension in Ashland County, send her an email (kate.wallner@wisc.edu) or call 715-208-0664! You can also share ideas through the short survey found here!